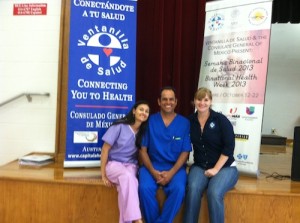 For the past year Dr. Lee has been working along side and cross promoting with the Ventanilla de Salud, which is a is a health outreach program targeting underserved Latino families with preventative health resources. This wonderful group helps Latino families in Central Texas have access to health services through free health screenings and referrals to community health services in partnership with the Consulate General of Mexico in Austin.
They are partnered with more than forty city, county and community health and social service agencies in and around Austin, TX. They provide free of charge referrals, health education, and on-site health services, such as free HIV, blood pressure, glucose and cholesterol testing to those in need.
Dr. James Lee from Austin Chiropractic has worked with this organization by serving on their committee for the 2013 BiNational Health Week, which is a global effort to promote Health and Wellness in the Latino community for the entire week.
This week there are activities all day every day throughout the Austin community.
Here is a link to their Facebook page: