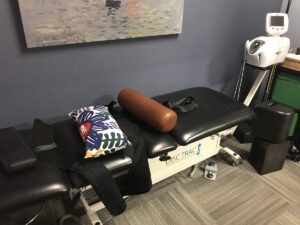 Our office utilizes several physical therapy rehabilitation styles. Some that use a mechanical force and movement in order to improve mobility and function and others that are passive.
Dr. James Lee from Austin Chiropractic and Network Spinal Analysis works closely with his patients to make sure that they receive the proper instructions and guidelines for the required physical therapy.
These generally include, home stretches, in office stretches, E-stim, Ice and heat and many more.
Dr. Lee utilizes a Chiropractic technique Network Spinal Analysis, which is an evidenced based approach to wellness and body awareness. This is a safe, natural, non-invasive treatment involving a gentle precise touch along the spine to cue the brain to heal.
When your body is out of alignment, your body  experiences a restrictive range of motion, when you are having pain and tightness and an overall sluggish feeling, chances are that you are out of alignment.
Physical Therapy at Austin Chiropractic as well as a chiropractic adjustment will address this "out of alignment" and make you feel better. Our bodies know what to do, they know that they need to be straight and have proper posture. So, a Chiropractic adjustment will align your spine and relax your body and create a new muscle memory pattern for change.
So after several adjustments by Dr. James Lee at Austin Chiropractic, and some physical therapy, your body will begin to remember the proper posture and begin to help you keep it in its corrected form.
The Chiropractor will adjust and align the spine, which will in turn release a majority of our tension and the physical therapy will help.
This combination allows the central nervous system to unblock itself and function at a higher capacity.
James Lee of Austin Network Chiropractic    recommends that people come 2 times a week for a few weeks, then one time a week until they feel better. Then Dr. Lee would recommend a maintenance plan over the course of several months along with any physical therapy treatments.
Our other services we offer: